5. Andy "Destroyer" Ruiz Jr., Mexico/United States, (33-2, 22 KOs), Former IBF, WBA, IBO, and WBO Champion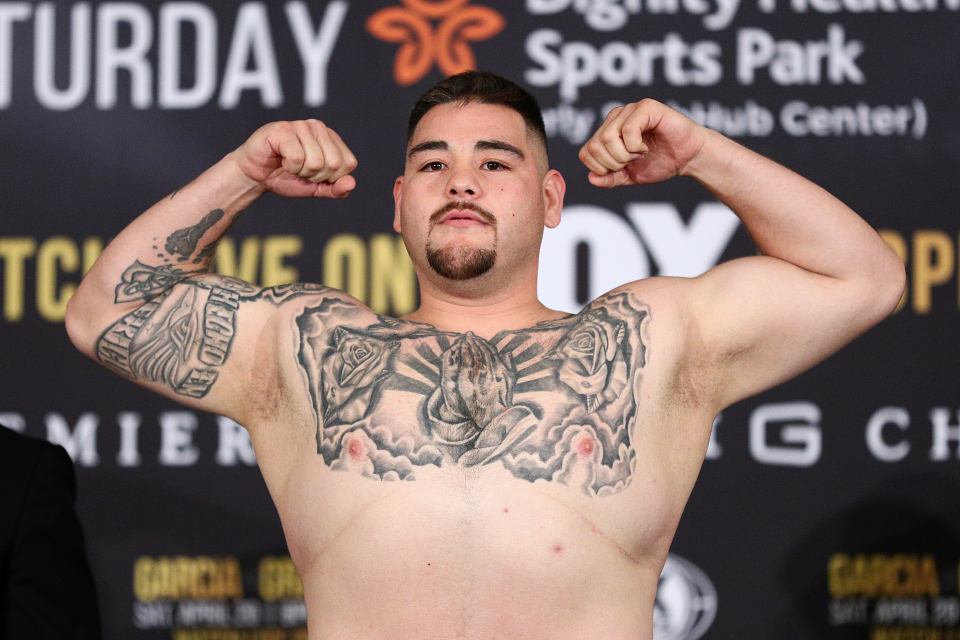 Upon first glance, Andy Ruiz Jr. doesn't seem like much. Ruiz Jr. is as appealing to the eyes as a slightly moldy loaf of bread is appealing to the taste buds. In fact, he looks like the opposite of what one would imagine the Heavyweight Champion to look like.
However, don't be fooled.
Ruiz Jr. is a world-class fighter with god given talents that make up for the lack of physical prowess. Naturally, his hand speed can match that of anyone else in the division. While he doesn't possess the power to put a fight away with one punch, he drops consistent bombs that hurt his opponents.
Unfortunately for Ruiz Jr., his discipline is heavily in question.
After beating Anthony Joshua on June 1st, 2019, for the IBF, WBA, and WBO Championships, he let his guard down in regards to staying in shape. When the rematch came around on December 7th, Ruiz Jr. was obviously in much worse physical shape than the previous bout. Joshua would go on to win by unanimous decision.
On the bright side, there has been signs of life for Ruiz Jr. He has picked up a new trainer in Eddy Reynoso to whip him back into shape. Reynoso works with arguably the best pound-for-pound boxer in the world Saul "Canelo" Alvarez.
Don't count Ruiz Jr. out just yet.
4. Dillian "The Body Snatcher" Whyte, United Kingdom, (27-1, 18 KOs), Current Interim WBC Champion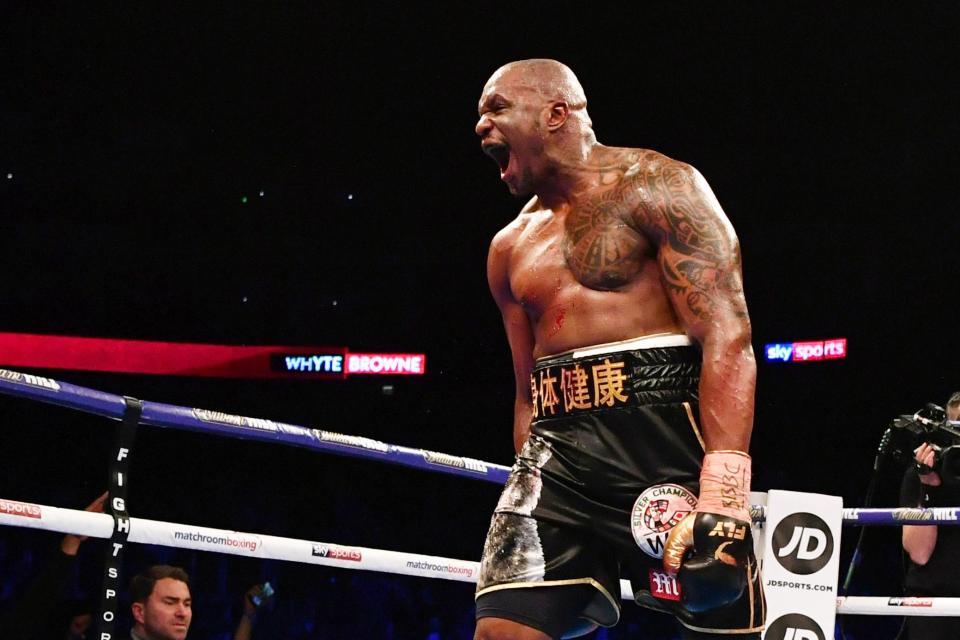 Dillian Whyte is a fighting machine. Whyte was a two-time British Heavyweight Kickboxing Champion and one-time Europe Heavyweight Kickboxing Champion. He ended his professional kickboxing career with a record of 20-1 and turned to MMA. After a very short career in MMA, he finally decided to get into boxing.
He steamrolled through opponents to a record of 9-0. However, in October of 2012, he tested positive for the banned stimulant Methylhexaneamine. As a result, he was banned from professional boxing for two years.
Upon his return in 2014, Whyte was out for blood and vengeance. Once again, he made easy work of every fighter pitted against him. Through seven fights, he won by way of KO three times and TKO four times. No opponent made it past the fifth round.
On September 14th of 2015, it was announced that Whyte would fight Anthony Joshua for the vacant British Heavyweight Championship. On December 12th, the two Brits went toe-for-toe for the right to call themselves the "fighting pride" of Britain. It was a very even fight through the first three rounds, however, Joshua regained control of the fight by utilizing his jab to set up his right. In the seventh, Joshua rattled Whyte with a right to the temple and quickly followed with an uppercut that put Whyte out for the night.
Since the Joshua fight, Whyte has won 11 bouts in a row, with the most notable being a 12 round unanimous decision victory over Oscar Rivas to become the interim WBC champion. He's set to defend that title against Alexander Povetkin on the 22nd of this month.
3. Deontay "The Bronze Bomber" Wilder, United States, (42-1-1, 41 KOs), Former WBC Champion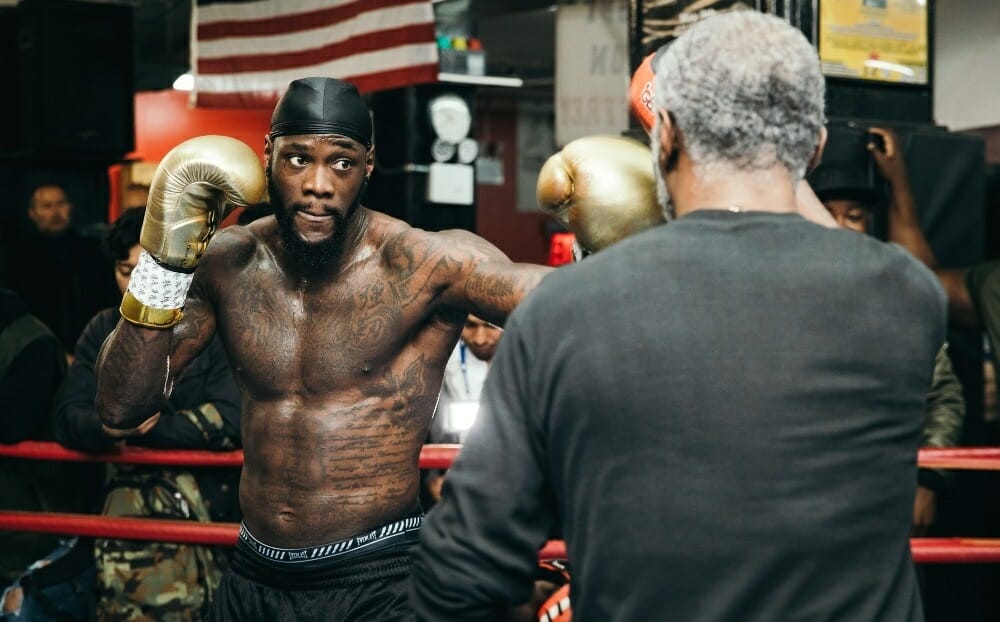 By now, even spectators outside of the boxing community must know and respect Wilder. Who would have thought a kid from Tuscaloosa, Alabama would become the greatest knockout artist the sport of boxing has ever seen?
Of all 42 wins under Wilder's belt, all but one came by way of knockout, meaning 98% of Wilder's wins come from Wilder's one-in-a-generation power. 31 of those knockouts came within the first three rounds of the bout. 19 of those came in the first round.
Standing a 6'7", with a reach of 83", creates an already dangerous combination for fighters to deal with. Add in elite hand speed and you've got a Top 10 fighter in the division. Now, add George Foreman-esk power, and you've got an absolute animal.
Wilder looks to end the fight quickly. He'll measure out his opponent with his jab, and then, when they lean too heavily to protect themselves from the jab, Wilder will come in with the "widower."
After beating Bermane Stiverne on January 17th, 2015 for the WBC Championship, Wilder dominated the division for three years. His pure dominance, while a spectacle to hardcore boxing fans, created boredom for the casuals. Sounds like the New England Patriots of boxing to me.
However, a new challenger was on the horizon. In easily the most hyped heavyweight fight in recent memory, Wilder was set to defend his title against the Brit Tyson Fury.
On December 1st of 2018, Fury and Wilder fought an absolute classic. It went all twelve rounds, and despite a late knockdown from Wilder, it was called a draw. At the sound of the bell, both men could be seen embracing. However, the love didn't last for much longer.
On February 22nd of this year, Fury defeated Wilder in the seventh to win the WBC Championship.
Despite this, Wilder is still a threat to both men atop this list. Wilder and Fury are aiming to face off for a third fight in Allegiant Stadium in Las Vegas, Nevada on December 19th of this year. Obviously, because of COVID-19, this date isn't set in stone.
2. Anthony "AJ" Joshua, United Kingdom, (23-1, 21 KOs), Current IBF, WBA, IBO, and WBO Champion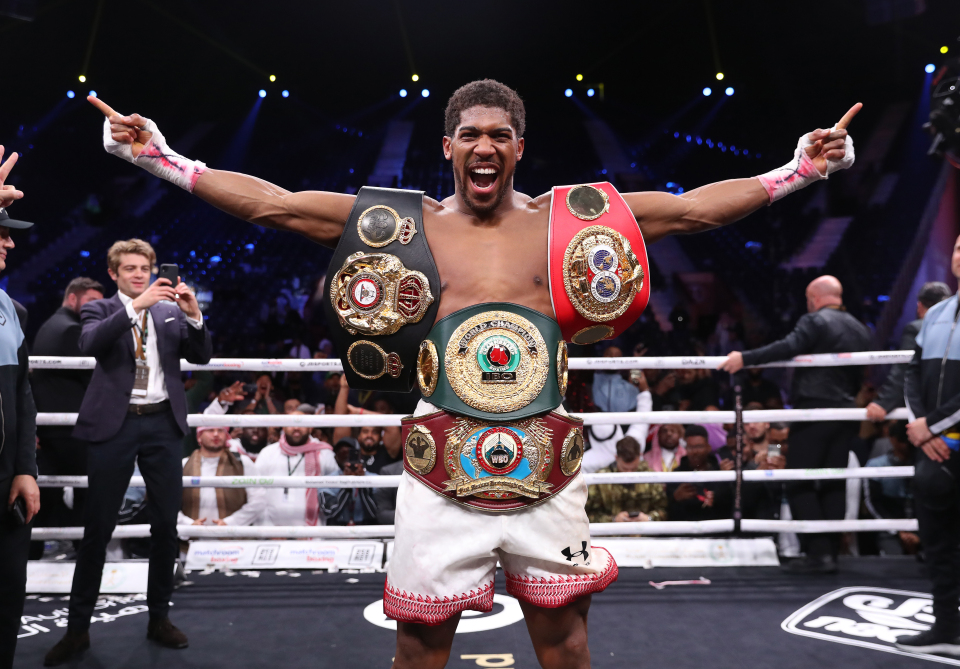 Anthony Joshua was destined for boxing glory. He's just one step away from reaching the peak.
Joshua, like the large majority of professional boxers, started as an amatuer. He won his first 18 fights, all in his early 20s, and instead of turning professional right away, he instead opted to compete at the 2012 Olympics in — conveniently — London. He won gold at the super heavyweight division.
Shortly after, he announced his entrance to professional boxing, and his first bout was against the unbeaten Emanuele Leo. In only two minutes and forty seven seconds, Joshua won by way of knockout. This would become a trend in his career.
He would go on to win 14 straight bouts, all by way of knockout, while claiming the aforementioned British Heavyweight Championship as well as the WBC International Title and Commonwealth Title. He would vacant all three in order to get his shot at a "real" prize: the IBF World Heavyweight Championship. On April 9th of 2016 Joshua knocked out Charles Martin in the second round to win his first major title.
After two title defenses, Joshua was slated to participate in the fight of his life. He was set to face off against the legendary Ukranian Wladimir Klitschko in April of 2017. After two vicious knockdowns in the 11th round, the referee stopped the fight, and awarded Joshua the technical knockout victory. Joshua added the WBA and IBO championships to his collection.
It doesn't stop there.
On March 31st, 2018 Joshua had his eyes set on another title: the WBO Championship currently held by Joseph Parker. This was the first unification heavyweight fight in Britain's history, and they had a hometown hero to root for. For the first time in his career, Joshua had to fight through the whole scheduled time, in this case, twelve rounds. After the judges unanimously awarded Joshua the victory, history was in spitting distance for Joshua. He had three of the four major titles, the WBO, WBA, and IBF titles, with only the WBC title to go. However, since Wilder was occupied, and the companies demanded Joshua fight, he had to defend his titles against someone.
As previously mentioned, that didn't go so well for the Brit. In his first boxing match outside of the United Kingdom, Joshua was embarrassed by the husky Andy Ruiz Jr. in seven rounds.
And just like that, all of his hard work was gone.
They said it's hard to become a champion. It's even harder to defend your championship. The hardest? To win back your championship.
Joshua did just that.
On December 7th, 2019, Joshua embarrassed Ruiz Jr. From the get go, it was all Joshua. Sure, Ruiz Jr. got his shots in, but Joshua controlled the tempo all throughout the bout. Joshua reclaimed his titles, once again bringing the belts back to Britain.
Nowadays, Joshua is waiting for the WBC Championship to play out, as Wilder vs. Fury III is likely to happen this year, and after it does, a unification fight is unavoidable. Wait, sorry. Not unification. The winner would become the undisputed Heavyweight Champion of the World. The first since Lennox Lewis in 1999.
1. Tyson "The Gypsy King" Fury, United Kingdom, (30-0-1, 21 KOs), Current Lineal, The Ring Magazine, and WBC Champion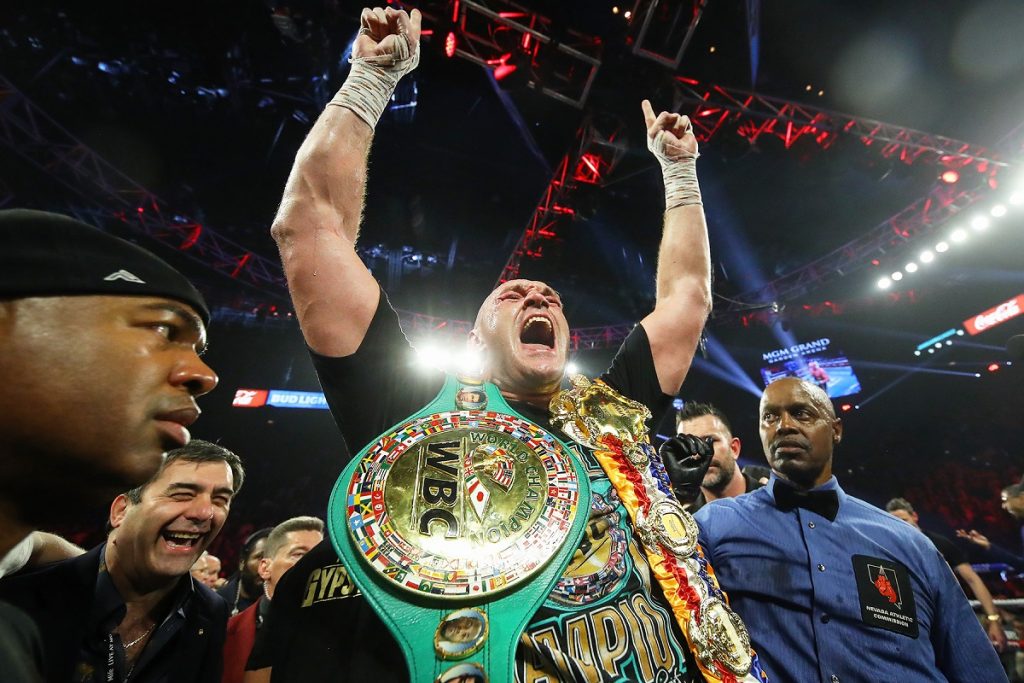 "The Gypsy King" is truly the king of the heavyweight division. 
Tyson Fury was the first man to defeat the previous king of the division, Wladimir Klitschko. After harassing the champion Klitschko for years on end, in a similar fashion to Jack Johnson, Fury was finally awarded the fight. The bout between the two was set for November 28th of 2015.
This was no regular fight, however, as Klitschko was no ordinary champion. He was the WBA, IBF, WBO, IBO, The Ring Magazine, and Lineal Heavyweight Champion of the World. While that is an impressive enough feat that will likely never happen again, one other feat Klitschko accomplished was far more impressive. Klitschko didn't lose in over a decade. His last loss was in 2004 against Lamon Brewster.
However, he was now 40-years old. Fury was 27-years old.
In fact, Klitschko's trainer *until the time of his death in 2012* Emanuel Steward, trained Fury as well. He called him, "the next dominant heavyweight champion" and "the heir to Klitschko's throne."
That became reality on November 28th. In what was the heavyweight fight of the decade, Fury dethroned Klitschko after the judges unanimously awarded Fury the win, ending Klitschko's decade long reign of terror over the heavyweight division.
With a perfect record, minus the draw against Wilder, no man has been able to even touch Tyson Fury. No man has been able to get under the skin of the champ. No man has ever been able to hurt the champ in any way.
Minus himself.
A mere 10 days after the Klitschko victory, he was stripped of the IBF title due to contract disputes claiming Fury had to fight Klitschko again, and not the company's mandatory challenger. The rematch was scheduled for June, but Fury pulled out of that fight due to an ankle injury, and was deemed "medically unfit to fight" in a later scheduled fight. Fury was under suspicion of using, and was ultimately banned from boxing for illegal substances. But, Fury made a decision nobody expected. He vacated every single one of the belts he won, citing his desire to focus on his mental state.
At the time, nobody knew about the demons he fought inside of his head daily.
He later has admitted that during his two-ish year hiatus from boxing he abused recreational drugs and alcohol. Oh, and cocaine. He was at the lowest point in his life. He weighed nearly 400 pounds. He was a desperate alcoholic. He was a junkie. And what likely hurt most of all, he was no longer the champ.
Here's some quotes from Fury.
"I'M A MANIC DEPRESSIVE. I JUST HOPE SOMEONE KILLS ME BEFORE I KILL MYSELF. … I'VE BEEN OUT DRINKING, MONDAY TO FRIDAY TO SUNDAY, AND TAKING COCAINE. I CAN'T DEAL WITH IT AND THE ONLY THING THAT HELPS ME IS WHEN I GET DRUNK OUT OF ME MIND."

"I LOST THE WILL TO LIVE."

"I WAS ON THE VERGE OF SUICIDE. I HAD NO REASON TO STAY."
But, Fury won. Just as he's always done. Through the support of others, he clawed his way back to his former glory. He regained the love for the sport of boxing, but more importantly, the love for himself.
After two lackluster matchups in Sefer Seferi and Francesco Pianeta, Fury faced Wilder for the first time.
You know how the story goes.
Draw. Work harder. Win. Glory.
Once, again — Fury's the champ.
If you or a loved one suffer from, or you suspect suffer from, suicidal or depressive thoughts, please contact one of the following numbers. You are not alone in the world, and there's a countless number of people out there that care about you.
National Suicide Prevention Lifeline: 1-800-273-8255
Substance Abuse and Mental Health Services National Helpline: 1-800-662-HELP (4357)