Excitement is once again rumbling in Foxborough.
With the heartwrenching departure of Tom Brady, the New England Patriots now have a gaping hole at the quarterback position. Many have high hopes for sophomore Jarrett Stidham to be Brady's legitimate successor. Many do not. While that is a topic up for much debate, today, I won't be touching it *as much as possible.*
We're here to talk about recent signee Cam Newton.
Pre-Patriot Days
The 31-year old quarterback has had his recent struggles. Coming off an up-and-down season, where Newton was benched for the final two games in the 2018 regular season, he decided to undergo surgery on his injured right throwing shoulder. Due to this, he sat out all of the Carolina Panthers' OTAs and minicamps in the spring. He would return to the team in July.
When the 2019 regular season rolled around he was back in his starting role. But, he was a shell of himself. In two appearances he threw for only 572 yards with a single interception and no touchdowns, posting an abysmal 52.6% completion rate. On the rushing front…it wasn't much better. He ran for -2 yards in five attempts.
Wait, why did he only play two games?
Well, in the third game of the 2019 Preseason, Newton sprained his left foot in a somewhat meaningless game against the New England Patriots.
Did Bill Belichick intentionally put a hit on Newton to decrease his market value? Probably not. Belichick plays chess when the rest of the NFL plays chess. We'll never know.
What we do know, however, is that Newton re-aggravated the aforementioned injury in Week 2 of the regular season in a game against the Tampa Bay Buccaneers. It was later determined he suffered a Lisfranc fracture.
Is anybody else seeing this? The Patriots and Buccaneers? Is there something going on?!
He would eventually be shut down for the rest of the season and, after failing to find a trading partner, the Panthers released their longtime star.
What's Next?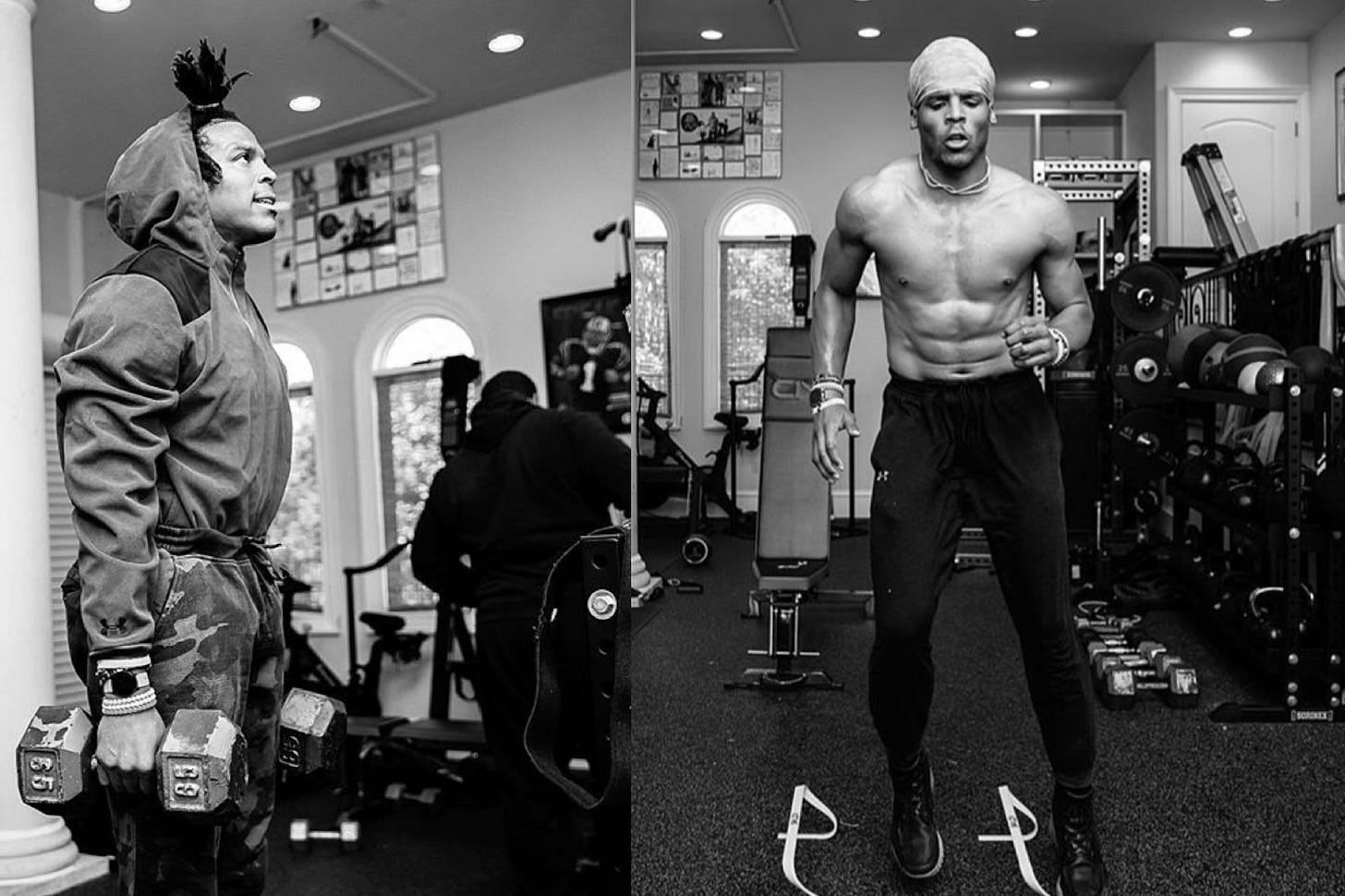 That brings us to today.
As a longtime, ride-or-die Patriots fan, you can take the following however you choose to. If you're unwilling to remove your own bias, then don't try to accuse me of not doing so. Because I am.
Let's go.
Contract: Although exact numbers have not been released as of the time I am writing this, we have some sense of what the contract will look like. Newton will get around the veteran minimum in guaranteed money: likely somewhere in the range of $1 million to $1.4 million. It's been reported that the contract is worth, at its peak, up to $7.5 million. In true Belichick-fashion, the rest of the $6.5 million to $6.1 million is incentivized. This is nothing new to Belichick. All in all, this is a fair contract. 
Worst Case Scenario:
Newton comes back as a true shell of himself and loses the starting job to Stidham. For a lot of people, this would be extremely embarrassing for not only Cam Newton, but also the Patriots franchise. However, I would disagree. Let's say Newton becomes QB2 ahead of Brian Hoyer. That's a solid backup option for the Patriots, and would instantly propel Newton as one of the best backups in the NFL.
So, where's the real positivity in this? Sitdham gets—another—former MVP to learn from. An elite brain to pick. Somebody who has the experience and knowledge to help Stidham train both physically and mentally. This remains true even if Newton gets injured before the season starts.
Best Case Scenario:
Newton returns as Superman and once again becomes a true star in the NFL. The best case scenario is easily the murkiest to predict. The 6'5" quarterback is the embodiment of a dual-threat quarterback. That's something that New England hasn't seen since the Steve Grogan days of the 70s. The run pass option (RPO) plays would be absolutely lethal to opposing defenses.
I'm sure Josh McDaniels and Bill Belichick are itching to come up with plays involving Newton.
It's no secret that the Patriots' receivers, minus Julian Edelman, were struggling to get separation against man-to-man coverage last season. This is where Cam Newton could do some serious damage. With the secondary completely occupied and the linebackers either blitizing or covering a man, there will be space for Newton to take-off and run. This is something Newton has excelled at in this past. Because of this, Newton will ultimately force defensive coordinators to call man-to-man coverage less frequently which is a huge advantage for the Patriots' receivers.
Verdict
Was this a good move by the Patriots?
Absolutely.
Newton has the potential to be an absolute game-changer for the franchise. He comes at a cheap price, but has an extremely high upside. Again, even if he fails to return to his former self or gets injured, he will provide Stidham with valuable football knowledge and a solid backup option.
However, Belichick is known for taking so called "washed up" veterans and turning them back into the player they once were; that's in addition to his reputation for getting the most out of his quarterbacks. So, I have confidence in Newton and the Patriots.
Side Notes
-The transaction is still technically pending since the Patriots have to conduct their own physical that Newton has to pass. However, if you've seen his Instagram, you shouldn't be worried about that.
-Aside from two brief stints by Jacoby Brissett in 2016, Newton will be the first African-American starting quarterback in the Patriots' history. That includes their AFL days, AKA since 1960.
-Okay, this might be me overthinking…but…maybe (?) just maybe expect the Patriots to look into trading for Odell Beckham Jr. in the near future. Newton's friendship with OBJ is well known, and they've been seen working out together recently as throwing partners, as well as off the field.
-Here's an interesting quote from Belichick concercerning Newton back in 2017:
"I think when you're talking about mobile quarterbacks, guys that are tough to handle, tackle, can throw, run, make good decisions — I mean, I would put Newton at the top of the list. Not saying that there aren't a lot of other good players that do that, but I would say, of all the guys we play or have played recently in the last couple of years, I would definitely put him — he's the hardest guy to deal with. He makes good decisions, he can run, he's strong, he's hard to tackle. He can do a lot of different things, beat you in a lot of different ways. We saw that in the game down there in '13, so I would put him at the top of the list. Not saying the other guys aren't a problem, because they are, but he's public enemy No. 1."
-The battle for the Comeback Player of the Year Award between Newton (if he stays healthy) and Ben Roethlisberger should be interesting.