Fighting Mike Tyson in his prime was like willingly walking into your execution.
On February 11th, 1990 that's the exact predicament James "Buster" Douglas was in when he entered the Tokyo Dome in Tokyo, Japan. Tyson was the undisputed heavyweight champion of the world at the time, and was entering the fight with a menacing 37-0 record with 33 of those wins coming by way of knockout.
He had successfully defended his unanimous heavyweight championship seven times prior, with noteworthy victories against legends Larry Holmes, Michael Spinks, and Tony Tucker.
Enter Douglas.
Many saw him as a subpar contender, coming in with a measly 28-4-1 record. By industry standards, a 28-4-1 record is outstanding. By Tyson standards, he was a joke.
Here's some numbers. Tyson was named a -4200 favorite. In fact, at The Mirage, a famous casino in Las Vegas, Nevada, the top bet on Tyson was $160,000 for a payout of $4,000. On the contrary, the top bet on Douglas was $1,500 for a payout of $57,000.
Petition to find the person who bet $160,000 on Tyson anybody?
Tyson agreed to the fight, thinking Douglas would be an easy opponent to warm-up to in preparation for his pending fight with superstar Evander Holyfield. Douglas was the typical contender; big, talented, but lacking the necessary discipline and heart to be considered a true champion. He had already been stopped twice prior, and never showed the relentless desire to become champion.
That changed when Douglas' mother, Lula Pearl Douglas, passed away 23 days before the fight. His camp worried that Douglas would be too grief-stricken and discouraged to continue training. They later approached him asking if he wanted to throw in the towel and cancel the fight. However, he cited her passing as a motivating factor that pushed him even harder.
"My mum wants me to fight, my mum wants me to win."
Nobody questioned his heart anymore.
Many would be impressed with Douglas if he made it past the second, hell, the first round with the human knockout highlight reel that is Mike Tyson. However, he fought Tyson evenly through seven rounds.
In the eighth, Douglas was knocked down by a massive uppercut from Tyson. Many thought the fight was over. Here's where the controversy comes in. After a seemingly extended count from Octavio Meyran, Douglas finally came to his feet at nine seconds. But, was it really nine seconds?
You can draw up your own conclusion below. Start at two minutes and 50 seconds.https://www.youtube-nocookie.com/embed/fp9VEi-YLtg?rel=0&autoplay=0&showinfo=0
Regardless of anyone else's opinion, the only opinion that mattered was Meyran's, and he allowed the fight to continue. And because of the continuation of the fight, we saw arguably the biggest upset in the sport's history. In the tenth, Douglas hit the champ with a skull-shattering uppercut that violently rocked Tyson's head back. The subsequent hellfire of punches floored Tyson. Meyran counted to ten, and it was over. Douglas had done the impossible.
 He beat death himself.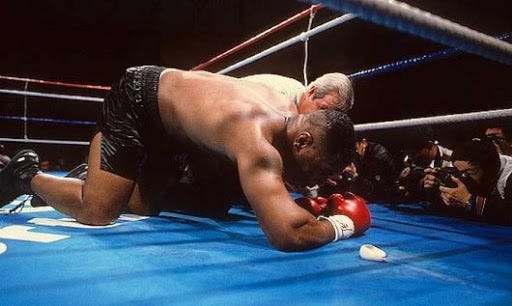 ---
Here's some awesome quotes.
"This has got to be the biggest upset in the history of boxing." … "This could be the biggest upset in sports — period." – The exchange between announcers

"I knew she was looking down, happy, saying, 'I told you, my baby did it." – Buster Douglas

"Because of my mother … God bless her heart." – Douglas in his post-fight interview when asked how he won
---
Here's the numbers from the fight.