Every kid growing up playing basketball wanted to be like Mike.
Inspirations. Everybody has them. They motivate you to become a better version of yourself than you were yesterday. They tell you not to conform to society's norms. Everyday you push yourself past your comfort zone with the hopes that one day you'll be like him or her. 

Being a multi-sport athlete myself, I've had an odd bunch of inspirations. For reference, I've played football, basketball, and track and field at the varsity level. I boxed and, if you count it as a sport [which I do and will defend to my grave], powerlifted on the side as well. 
Muhammad Ali

Not only was Muhammad Ali, formely known as Cassisus Clay, the greatest fighter of his generation, but also the greatest role model of his generation. What defines a role model? 

A role model is a person whose behavior, example, or success is or can be emulated by others, especially by younger people.
Positive behavior. Leading by example. Success. Ali had all three. 

To this day he remains the only heavyweight in history to be the lineal-champion* three times. He has won 56 bouts, while losing only five times, three of which came at the age of 36 years or older; he was way out of his prime. He was a gold medalist in the 1960 Olympic Games. There's no denying his success.

Ali was fighting throughout the peak of the largely unpopular Vietnam War. On April 28th, 1967 Muhammad Ali, officaly drafted as Cassisus Clay, was drafted into the United States military. However, he refused to join the Army, citing his Islamic beliefs.

Because of his defiance, he was stripped of his titles, lost his boxing license in the state of New York, was fined $10,000,** and was sentenced to five years in prison.

Despite this, Ali stood by his decision stating,

"I have nothing to lose by standing up for my beliefs. So I'll go to jail, so what? We [African Americans] have been in jail for 400 years."
Standing up for what you believe in, despite the repercussions, is extremely admirable. No matter the criticism or hate he received, Ali stood by his beliefs… without conforming to society norms and feeling the need to please others. He did what he did for himself, and not for others.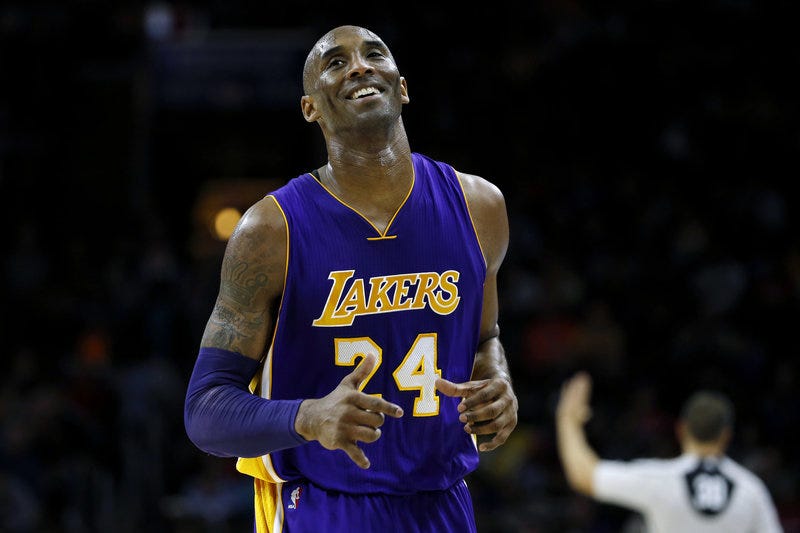 Kobe Bryant
May Kobe Bryant's soul rest in peace.

Kobe represents the pinnacle of self-reflection in my life. His "Mamba Mentality" that has seeped into my own mind relays into everything I do. Mamba Mentality has five key pillars, or main ideologies. They are passion, obsession, relentlessness, resilience, and fearlessness.

Attack every day head on, without fear, working relentlessly to get out of it better than you were the day prior. Kobe taught me that. To be the greatest, you have to beat the greatest. Kobe taught me that. Be so passionate about your craft, you become obsessed with being the best in that field. Kobe taught me that. And most importantly—in the face of defeat, be resilient.
Learning about Kobe's unfortunate passing left me shook, and deeply saddened. It was at this moment I thought, "What would Kobe want?"

Would he want me to sulk in sadness and would could have been, or smile with joy over what we've accomplished together? I chose the latter.
Eddie Hall

Eddie Hall has been the biggest inspiration in my powerlifting "career." 

What has Hall taught me aside from lifting? A lot. 
He's taught me to enjoy what you do. To smile every day, to express love and joy to everyone around you. Out-work everyone of your peers, and with dedication, you will become the best at what you do.

Hall has been the physical embodiment of a well-rounded, kind being. As if being the World's Strongest Man wasn't hard enough. You could make presumptions assuming that he would let his success get to his head, and get a sense of cocikness to him. But you'd be wrong. He approaches every interaction as if he were a "nobody" and dishes out love and brings joy to everyone that crosses his path.

One day, I want to be like Hall, both physically and mentally.

*A lineal champion in boxing is extremely complicated to explain. Essentially, you are the undisputed best fighter in that weight class, and you beat the man. To be the man, you have to beat the man.

**Adjusted to inflation in 2020 this amount is worth around $78,000.